Photography & Text: © Anna Rubingh
Sitting at her working desk in her studio, Tamar sips from her glass of tea while working on a small miniature that she will insert in one of her artworks. On one side the walls of Tamar's studio are filled with her colourful artworks and on the other side are cupboards full of scraps and collected bits and pieces she uses in her artworks. Her desk is placed under the window overseeing the square in front of the monumental studio building which once was part of a hospital for women and now is converted to a building where various artists have their studio. On the walls around her desk are memories, like a photo of her when she visited New York, and bits and pieces that inspire her.These scrapboards surrounding her desk are like sketches of her work, the feeling they give is similar to the colourful imaginary world of her artworks.
Tamar is an artist living and working in Amsterdam. She studied at the renowned art school Gerrit Rietveld Acadamy in Amsterdam and has been working as an artist ever since. She regularly exhibits her work at various art galleries in Amsterdam. Tamar also makes illustrations for various magazines and makes artworks in assignment.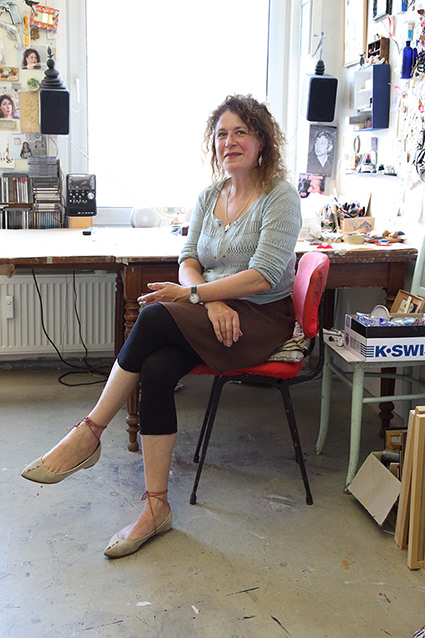 In her artworks she uses different combined techniques such as lino cutting, drawing and painting, working with  gouache, oil and  watercolour paints as well as with pencil.  Collage plays a major part in the works she makes; pieces of paper, receipts, bottle caps, packaging materials, feathers and other found objects carefully collected over the years. They usually are the starting point of an idea or a composition and are given new meaning and function. Tamar mixes techniques but also subjects that are normally not mixed together; with her personal view of reality she gives a twist to the world around her; Ideas that are bubbling up and together take shape in her artworks.
Also the names she gives her artworks play an important part in her work leaving you either  with a smile or in wonder, or both at the same time taking you deeper into her world of dress-up fish, devilish animals, sarcastic Maria's and piles of objects that cannot be piled up and are neither a landscape nor a still life; they are images of her self-invented world.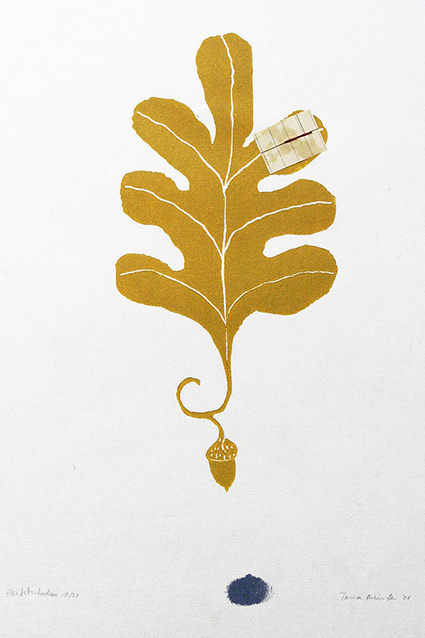 The interior of her home is similar to her artworks, one flows into the other. One of her livingroom walls shows a big collage mixing her own artworks with photos, memories and things she collected. Everywhere are artworks, recent ones blend in with older works from the time she studied at the renowned Amsterdam art school Gerrit Rietveld showing both the consistency as well as the growth in her very personal style through time.
Her love for collage is visible everywhere in her home, in the bespoke kitchen some kitchen cupboard doors and drawers were made out of old fruit and vegetable boxes she collected especially.
But even though there really is a lot to be seen and there are artworks and collections everywhere her home is well and tranquilly composed and her interior has a peaceful and relaxing feel, just as her artworks do.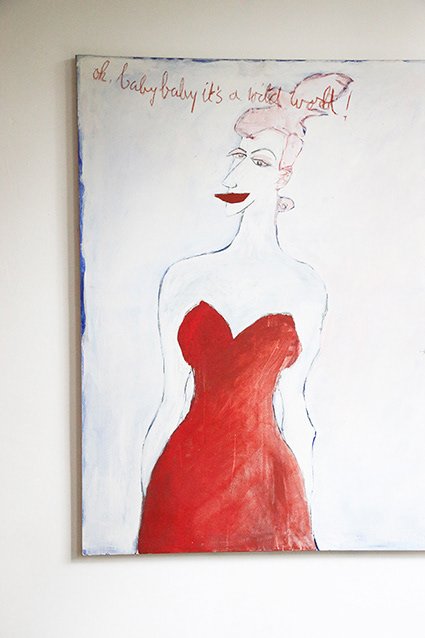 In her beautiful Amsterdam kitchen Tamar loves to cook and when I asked her, as I most of the times do when I'm doing a serie about someone, what's one of her favourite dishes it didn't take long before she came up with this great couscous salad, made with pulled chicken, apricots, orange and mint. It's a great recipe to make in advance for a party. Serve it together with other mediteranian style dishes as a buffet or just on it's own with some  tzatziki and maybe some bread or pita and olives.
___________________________________________________________________________________________
For the love of food I ask for favourite dishes while I'm doing a shoot. What somebody likes to cook, bake and eat tells something about that person as does the way they live.