Photography & Words © Anna Rubingh
Includes 3x recept (scroll down)

In a historical, once royal garden, "The Walled Garden" of Dutch King Willem III, Esther grows a wide variety of organic vegetables.
"When I was a student at Wageningen University, I cycled past the old wall here in Renkum every day," says Esther. "And every day I wondered what was behind that wall and what it had been used for. It turned out to be an old garden wall that once had been the wall of a vegetable garden laid out by King Willem III in 1882. The old vegetable garden had not been a garden for a long time and the grounds were totally neglected. The story inspired me and that was, 20 years ago, the beginning of what is now my organic vegetable garden; The Walled Garden."
The garden has grown into a highly productive horticultural business. "We grow as many as 450 different edible plants; vegetables, fruits and herbs, some of the vegetables growing here are old varieties that we grow for the Heritage Seed Network." The garden is not excessively big, just around 2 acres, but in season enough is grown for 100 families who each take a vegetable crate every week, and there is also enough left over to sell in the garden's shop and stock Esther's kitchen where she cooks delicious treats with veg and fruit from the garden. "People like to visit the garden; for the peace and quiet, to walk through the garden, have a drink and a healthy snack or piece of cake, all made with produce from the garden and then go home with a bag of fresh organic vegetables and fruit." 
Recipes: De Ommuurde Tuin   Photography: Anna Rubingh
Esther loves to cook, especially with produce from her own garden, of course. "I have lots of favourites," she says, "my favourites are always seasonal, with what's fresh from the garden. Pea burgers for example, my kids love those, or a cake  with red fruit freshly picked from the garden, that's really cooking in the season."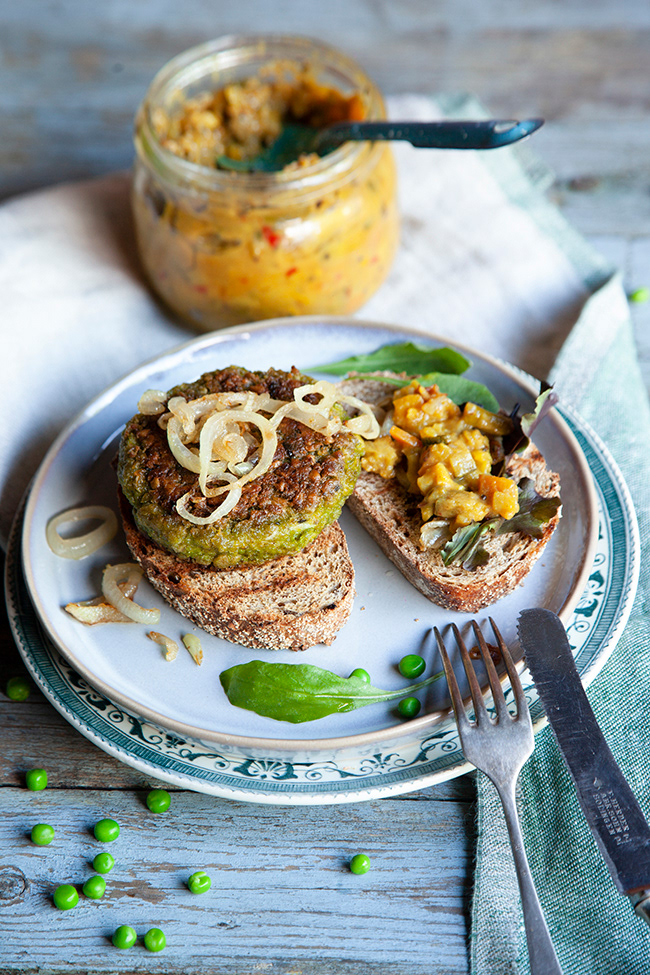 Simply delicious, these vegetarian burgers made from peas and fresh herbs from the garden. One of Esther's children's favourites, delicious on a toasted bun with fried onion, (homemade) piccalilli and some lettuce leaves, but also tasty with roasted potatoes or chips of course! Make the burgers in season with fresh peas, but frozen peas are also fine.
Chioggia Beet Soup with Basil
Chioggia beets are an old beetroot variety that originated in the town of Chioggia in Italy. Chioggia beets have red and white rings, and the red in the beets is much lighter than that of red beets. They are easy to grow in your own vegetable garden (sowing from April to end of July for a harvest from mid May to mid November). When you cook them, they turn light pink and when you use them in this soup, the red colour disappears completely. This gives a nice effect, you don't see any beets, but you do taste them! The fresh basil gives the soup a nice extra summery flavour. Do you prefer a red beet soup? No problem, with the same recipe you can make it just as easily.
TIP from Esther: "The nice thing about this soup is that you can eat it hot or cold. If the weather is warm, you can prepare it in advance and let it cool to have a deliciously refreshing soup, but it is just as tasty when it is served hot."
Selmolina Cheesecake with Red Fruit
When I arrive at "De Ommuurde Tuin" the whole garden smells of strawberries. "Strawberry season is coming to an end," says Esther, "but we still have a field where you can pick your own strawberries. Further down the garden berry bushes are full of red berries, it really is "red fruit season".
This is a very nice summer cake. The cake is made of semolina and cottage cheese baked with strawberries and red berries on top. And with so little sugar that a piece of cake is no sweeter than an average bowl of muesli with yogurt. A piece of cake for weekend breakfast maybe?