photography & text: © Anna Rubingh
In the garden behind their home, Meri, who lives with her family in a village near the Dutch city of  Arnhem, has realised her dream: a place for herself and her collected treasures in a self-built hut next to the vegetable garden and under the apple tree. "It really was a dream come true when the parts to build the hut were delivered. We started building it right away and after many weekends of hard work it was there, my own hut," says Meri proudly.
"I really wanted to have a place of my own, where I could potter around with all my little finds and treasures." The creation of her own space had to match within the style of their garden without disturbing it. That was achieved by using a green roof covered with special plants for example and by choosing a spot where the hut would integrate well within the garden. "The garden is a very nice place for all of us, all the elements in it are important and need to be in balance," Meri explains.
In her hut you will find all sorts of things, all beautifully organized into a stylish and personal whole; found feathers, shells and twigs, often beautifully brought together in an arty 3-dimensional compilation on the wall or just laid down on the table. "Look", says Meri, "these pebbles are all from around here, from the banks of the Rhine River, just around the corner from here". And there are small family heirlooms and souvenirs that she brought back from distant travels that are also part of her little treasure house. "I'm like a magpie," Meri laughs, "I take whatever I find along the way: scraps and stones, you name it, that's why I called my hut The Magpie's Hut, because a magpie also takes whatever it finds back to its nest. For my birthday I recently received a beautiful metal magpie which has been given a nice spot outside by the entrance."
"I can spend hours out here, pottering about, creating, or just reading a book on the veranda of my own Magpie's Hut, those are wonderful moments, really taking quality time for myself.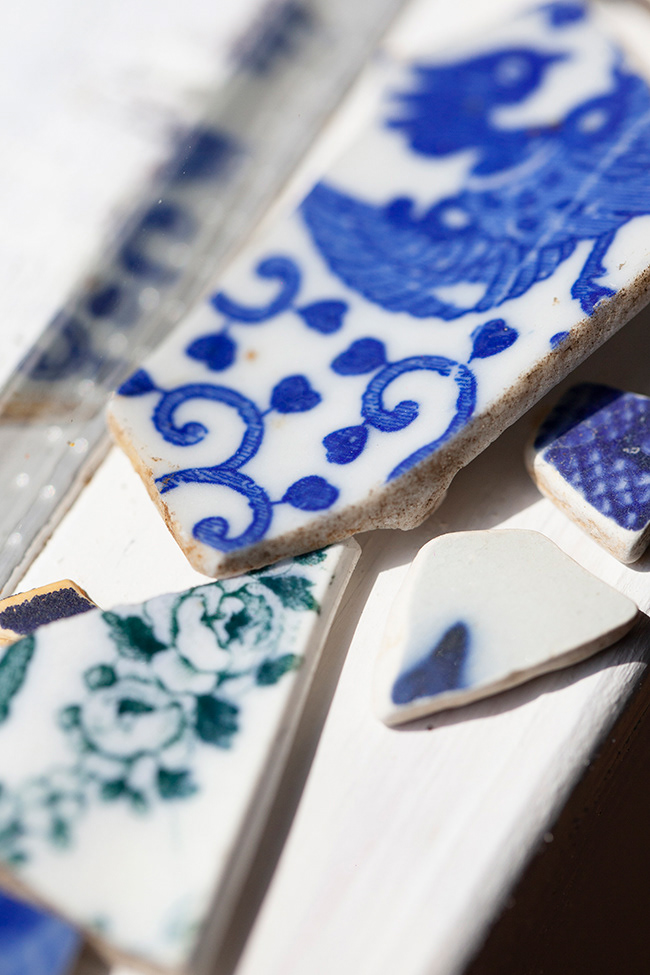 When I arrive at Meri's, I am treated to coffee and a delicious home-made blueberry and vanilla custard pie. "We picked the blueberries here, in the forest, and there are quite a few of them. It's a place no one really knows about, but in the Netherlands, blueberries can be found in the wild in several places." Meri shared the recipe for this mouthwatering summer pie with me.
And no forest with blueberries nearby? Don't worry, bought (frozen) blueberries can also be used to make this pie.